Back to recipes
Vegan Pumpkin Muffins with Sweet Potato Cinnamon Frosting
45 minutes to an hour

|

Serves - 4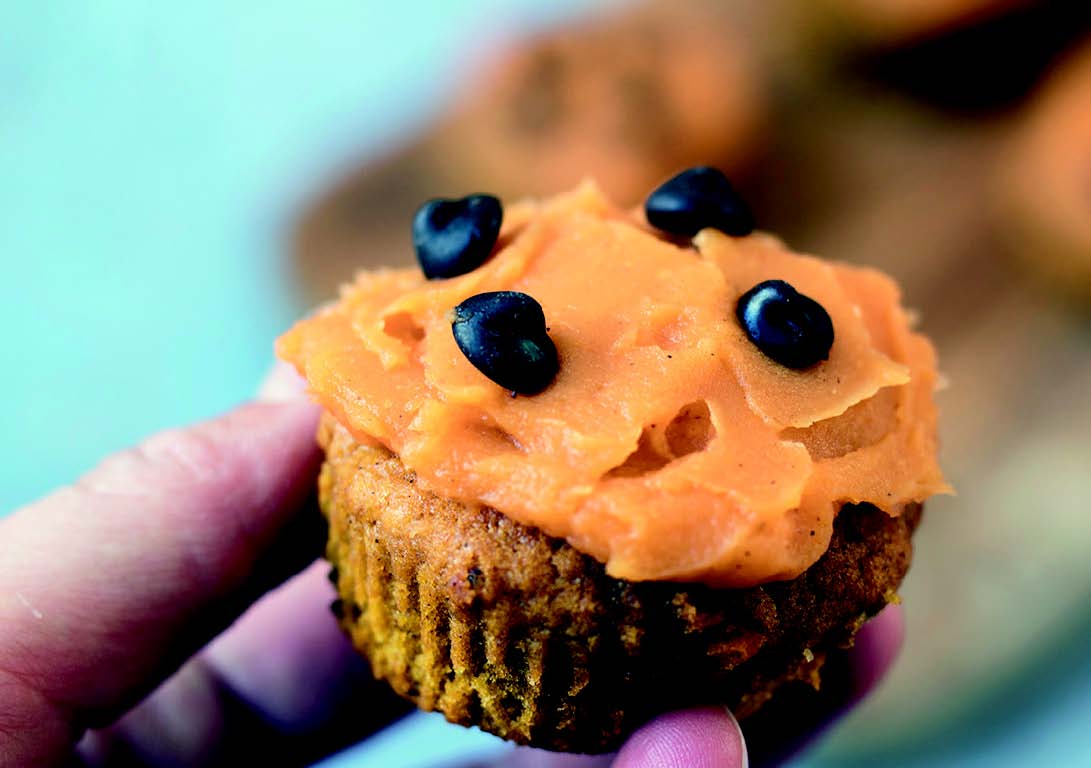 TIP
Decorate your cupcakes however you like! Why not try some spooky Halloween designs?
For the muffins:
• 100g raisins or chopped dates
• 125g plain flour
• 125g wholemeal flour e.g. wheat, spelt or buckwheat or use all plain
• 1 tsp baking powder
• 1/2 tsp bicarbonate of soda
• 1 tsp ground cinnamon
• 1/2 tsp ginger
• 1/4 tsp nutmeg
• 200 g pumpkin purée, homemade or half a tin
• 120 ml oat milk or other plant milk
• 120 ml sunflower oil
• 2 tbsp maple syrup optional
For the cinnamon frosting
• 350g sweet potatoes, boiled and cooled
• 3 tbsp maple syrup
• 1 tbsp coconut oil, melted
• 1 tbsp oat milk
• 1 tsp ground cinnamon
• Preheat oven to 180°C (fan)/200°C/gas mark 6.
• Place 12 muffin cases or 24 fairy cake cases in a muffin tin.
• First place the raisins or dates in a small bowl and cover with boiling hot water. Leave for 10 minutes.
• Sift the flours, baking powder, bicarbonate of soda and spices together in a large mixing bowl. Use your fingers to break down any lumps if needed.
• Drain your raisins or dates and pulse in a blender or food processor until you have a thick paste.
• In a separate bowl or jug whisk together the pumpkin purée, oat milk, sunflower oil and maple syrup. Stir through the raisin or date paste.
• Fold the pumpkin mixture into the flour until just combined, then spoon into your cases.
• Bake in the centre of the oven for 20 minutes (fairy cakes) or 25-30 minutes (muffins) until well risen and firm to the touch. Allow to cool slightly then turn out onto a cooling rack to cool.
To make the frosting:
• Place 350g cooked, cooled sweet potato into a food processor. Add 3 tbsp maple syrup, 1 tbsp melted coconut oil, 1 tbsp oat milk and 1 tsp ground cinnamon and pulse until combined.
• Stop to scrape the sides down at least once.
• Spoon or pipe onto your cakes